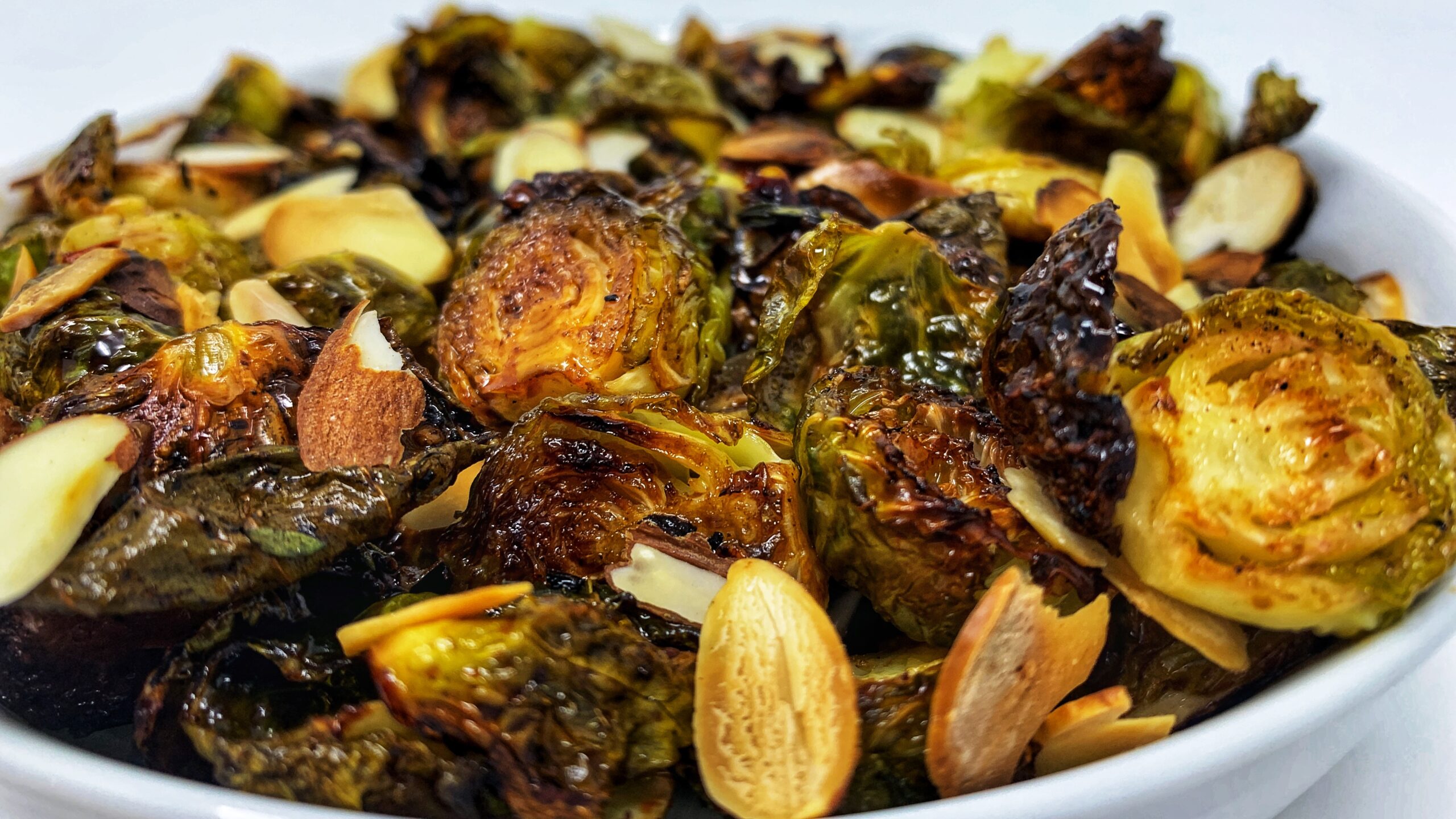 Crispy Brussels Sprouts
Crisp and lemony with a delicious sweetness from the Fig Crème vinegar and a little bit of a kick from crushed red peppers — That's how I love my brussels sprouts!
As many of you know, my husband Joe and I own an Oil & Vinegar franchise store in Downtown Greenville SC. While I exclusively use our products for most of my recipes, I always state that you can substitute if you have a high-quality alternative and still get the great flavors we are striving for. This recipe however, specifically calls for our products because they are definitely the "secret ingredient" that takes this dish from good to awesome.
In this recipe I use our fused flavored Lemon Extra Virgin Olive Oil. I have tried to make these brussels sprouts with lemon zest or lemon juice instead, but I was unable to get comparable results of lemony flavor while maintaining crunch. Additionally, the sweetness achieved from the drizzle of our Fig crème vinegar is mouthwateringly delicious. Yes, I have used a high quality aged balsamic and achieved great results, but I have not been able to match the intense flavor added by our thick, sweet and fruity Fig vinegar, intensified by the few minutes in the oven.
Some tips to getting your brussels sprouts crispy and wonderful – high heat and a shorter time in the oven gives you golden veggies with a little bit of crunch – al dente, if you will! As with other roasted veggies, you want to increase the surface area touching the baking sheet, so halve the sprouts, and don't crowd them on the baking sheet or they will steam instead of roasting. Shake the pan to create a nice even single layer of veggies and don't try to fit more than 1½ – 2 pounds of brussels sprouts on a standard baking sheet.
So, if you still have nightmares about your childhood experiences of eating brussels sprouts, BE BRAVE and indulge in these nutty, caramelized, crispy nuggets of roasted goodness. I promise you will be hooked.

Crispy Roasted Brussel Sprouts
1 lbs Brussels sprouts, trim ends and halve
¼ cup O&V Lemon EVOO
2-3 tablespoons O&V Fig vinegar
1 tablespoon lemon juice
4-6 cloves of garlic, chopped
¼ teaspoon red chili flakes (or to taste)
Salt and Fresh Cracked Pepper to taste
1 teaspoon fresh thyme, chopped
2 tablespoons sliced, blanched almonds (plain or toasted to garnish)
Preheat oven to 425
Trim the hard root end of the brussels sprouts and cut them in half. Place in a bowl.
In a measuring cup, mix together the oil, lemon juice, garlic, salt pepper, thyme and red chili flakes.  Mix well and pour over the sprouts to coat well.
Spread in a single layer in a sheet pan and bake for 20 minutes turning once or twice until the sprouts are tender and start to turn golden. Remove from the oven and drizzle with the vinegar. Return to the oven for another 5-8 minutes.
Remove and serve garnished with sliced almonds
Active Time: 10 minutes. Total Time: 40 minutes
Serves 4
NOTES
Yes, as always, I love using the products from our Oil & Vinegar franchise. I usually suggest that you can substitute products in most of my recipes. While I have tried this recipe with a plain EVOO and lemon juice or an aged balsamic instead of the fig vinegar with good results, the use of this particular oil and vinegar are my "secret ingredients" to making this dish crunchy, lemony, sweet, crispy and irresistible!
Categories: Snacks & Sides, Vegetarian, Vegan, Gluten-Free, Dairy-Free, Brussels Sprouts, Lemon EVOO, Fig Vinegar, Almonds, Crispy, Roasted