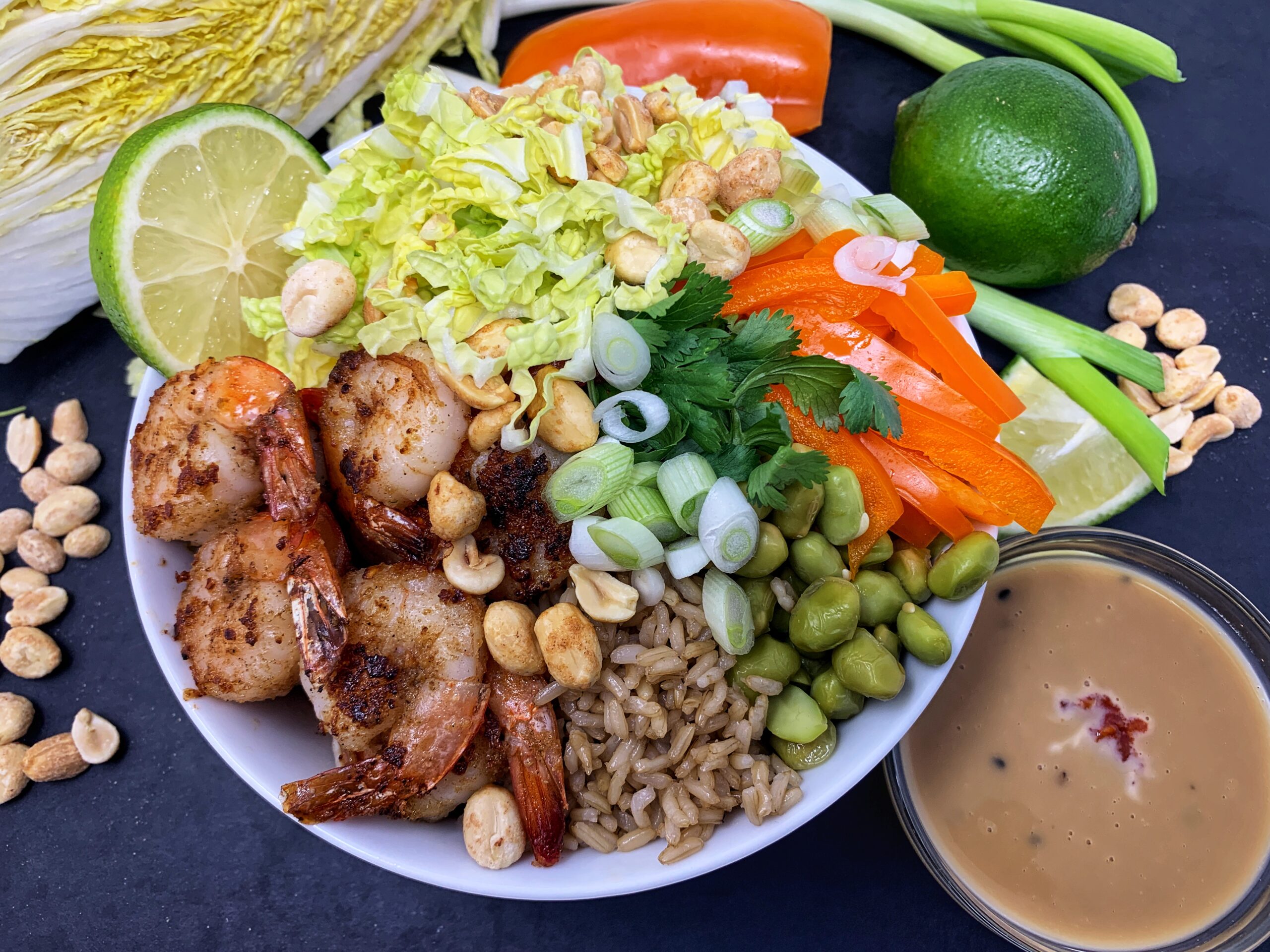 Shrimp & Napa Cabbage Bowl
This dish makes a great, easy, delicious dinner – the rice adds some whole grains, the cabbage is nice and light, the edamame and peanuts provide crunch, but the shrimp and sauce, well, they are the stars!
This bowl of Asian-inspired stir-fried dinner is filled with healthy ingredients. The edamame is rich in protein, high in fiber, and low in saturated fat. The shrimp is low in fat and high in protein too. The brown rice helps lower cholesterol and retains far more nutrients than white rice, the Napa cabbage is an incredible source of folic acid and Vitamin B, and all that, coupled with the other vegetables creates a healthy and flavorful meal that has great eye appeal.
The dressing or sauce is one that I sometimes make from scratch (and I've included the recipe for that in the Notes section) but mostly, to save time and still create just as much flavor, I doctor up the Oil & Vinegar brand's Roasted Sesame Dressing with a little spice. I love how easily it infuses SOOO much flavor into this dish. Either way will create a quick, easy delicious dish.
I know that many people think that eating healthy food means drudging your way through boring, insipid and monotonous meals. Well, BE BRAVE and try this recipe, it will put some Asian inspired zip and flavor into your dinner. Then, savor every bite. Who says healthy can't be flavorful??

Shrimp & Napa Cabbage Bowl
1 cup uncooked long grain brown rice
2 cups vegetable stock (or water)
1 teaspoon Extra Virgin Olive Oil
½ teaspoon salt
1 lb medium or large shrimp (peeled and deveined)
¾ teaspoon ground coriander
½ teaspoon ground ginger
¼ teaspoon allspice
1 teaspoon garlic powder
1/8 teaspoon red chili flakes
1 ½ tablespoon Roasted Sesame Oil (more to drizzle)
4 cups coarsely shredded Napa cabbage
½ cup thinly sliced spring onions (white and light green parts)
1 red or orange pepper sliced
½ cup edamame
½ cup O&V Roasted Sesame Dressing *
1 tablespoon Asian Chili Garlic sauce (optional for heat)
½ cup dry roasted peanuts, chopped
Lime wedges and cilantro or parsley leaves
Crushed red pepper and low sodium soy sauce (optional)
Rinse the rice in cool water and let drain in a strainer. In a small saucepan, warm the Extra Virgin Olive oil. Add the rice and toast a little till fragrant and nutty, Add the water, and stir in the salt. Bring to a boil, then reduce the heat to low, cover and let simmer undisturbed for 45 minutes. Open to check, there should be little to no water remaining, and the rice should be chewy not crunchy. Add a tablespoon of water or let cook a little longer as needed. When done, remove from the heat, keep cover on and let stand for 10-15 minutes. Then open cover and fluff with a fork.
Meanwhile, rinse the shrimp, pat dry and place in a bowl. Sprinkle the shrimp with coriander, ginger, allspice, garlic powder and red chili flakes. Toss to coat.
In a large nonstick skillet or wok, heat the Roasted Sesame oil over medium-high heat. Add shrimp, cook and stir for 3-4 minutes till shrimp are opaque. Remove from pan and keep warm. Add the sliced green onions, sliced peppers and Napa cabbage and toss till crisp tender – about 3 minutes, stirring frequently.
In a bowl, combine the Roasted Sesame Dressing and Asian chili garlic sauce if using.
Divide each of the following between 4 bowls: cabbage mixture, topped with rice, shrimp, edamame, and then drizzled with the sauce.
Garnish with crushed dry roasted peanuts, lime wedges, cilantro leaves, and serve with chili flakes and low sodium soy sauce on the side to be added to taste.
Total Time: 50 minutes
4-6 servings
NOTES
Yes, as always, I love using the products from our Oil & Vinegar franchise. This Roasted Sesame Dressing is an easy and great sauce for this dish, and for others. You can substitute it by making a similar sauce as follows:
½ cup creamy peanut butter
¼ cup reduced sodium soy sauce
3 tablespoons tahini
1 tablespoon rice vinegar
¾ teaspoon Asian Chili Garlic sauce or Sriracha Sauce (more to taste)
1 tablespoon honey
1 tablespoon chopped fresh ginger
2-3 garlic cloves
1 teaspoon Roasted Sesame Oil
½ teaspoon toasted white and black sesame seeds
Add a little vegetable stock or water to thin out if needed.
In a blender combine the soy sauce with the peanut butter, tahini, rice vinegar, chili-garlic sauce, honey, ginger, garlic and sesame oil. Puree to create a smooth sauce. Season to taste, and stir in the toasted sesame seeds.
Categories: Entrees, Seafood, Gluten-Free, Dairy-Free, Napa Cabbage, Stir Fry, Asian-Inspired, Roasted Sesame Dressing, Sesame Oil, Shrimp, Edamame, Brown Rice, 20-Minute Meal, Weeknight Dinner