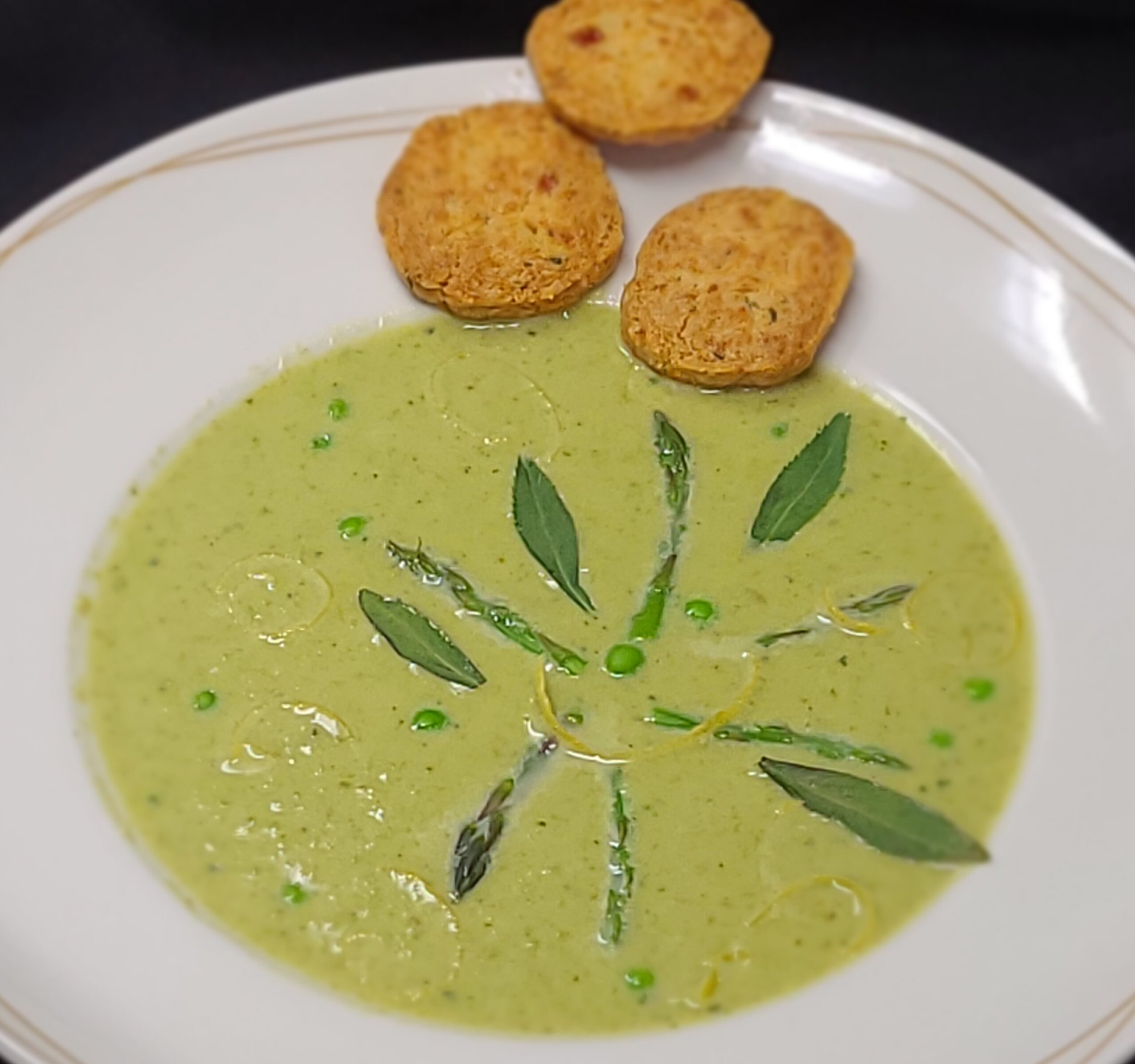 MMM Spring Soup
Soup has always been something I enjoy making (and eating!). I love the fact that you can make a batch and have it for dinner, some lunches and it is so easy to make a double batch for a crowd or to freeze for later.
The weather is still cool enough to enjoy soup, yet using asparagus, allows you to dream about spring as you savor each spoonful. Of course, it helps that asparagus is packed with nutrition – a good source of vitamins, fiber, antioxidants, and folate.
Personally, my preferences for food are all based on texture, so although I love creamy soups, I can easily get bored halfway through drinking my cup of soup. So, whenever I make creamy soups, I garnish them with lots of stuff – things that make each mouthful interesting. In this case, I use blanched asparagus tips and peas, tarragon leaves and lemon zest. I also added these home-made Savory Cheese Shortbreads which add great crunch and a nice cheesy flavor.
These shortbreads – oh my! I love them with creamy soups like this one, or just to snack on by themselves. I like making a double batch of the dough and freezing it, then I just thaw, slice and bake when I get a craving for them.
So BE BRAVE, make one batch of a soup and try serving it with new and exciting flavor and texture combinations in the garnish. It will make you enjoy left over soups for days just by experimenting with toppings. Let me know what your favorite garnishes for this soup are in the comments below.

Ingredients
4-5 teaspoons Single Estate Extra Virgin Olive Oil
1 medium white onion, thinly sliced
2-3 garlic cloves, halved
1 ½ lbs asparagus, cut into 1-inch pieces (reserve some of the tips for garnish)
1 quart low sodium Chicken or Vegetable broth
¼ cup tarragon leaves (plus more for garnish)
2 tablespoons flat leaf parsley leaves
¾ cup heavy cream
¼ cup frozen baby peas, thawed
Salt and pepper to taste
Lemon zest for garnish
Preparation
In a large pot heat the EVOO. Add the onion and garlic and cook over moderate heat stirring frequently until softened (6-10 minutes). Don't let the onions brown.
Add the asparagus (keeping aside the reserved tips for garnish) and cook for a couple of minutes. Add the broth and simmer until asparagus is tender.
Remove from heat and add the tarragon and parsley. Working in batches, puree the soup in a blender or food processor. Return to the pot.
Add the cream and peas and reheat gently. Season with salt and pepper.
In a separate small pot bring heavily salted water to a boil. Add the reserved asparagus tips and cook for 1 minute till crisp tender and bright green. Drain and plunge in ice water to cool.
Serve the soup garnished with tarragon leaves, lemon zest, reserved asparagus tips and serve with Savory Cheese Shortbreads.
Notes
You can also garnish this soup with crispy roasted chickpeas, or thinly shaved brussel sprouts that have been marinated for 30 minutes in a splash of olive oil, lemon juice, salt and pepper.
Check out the Savory Cheese Shortbreads recipe
Serves 6