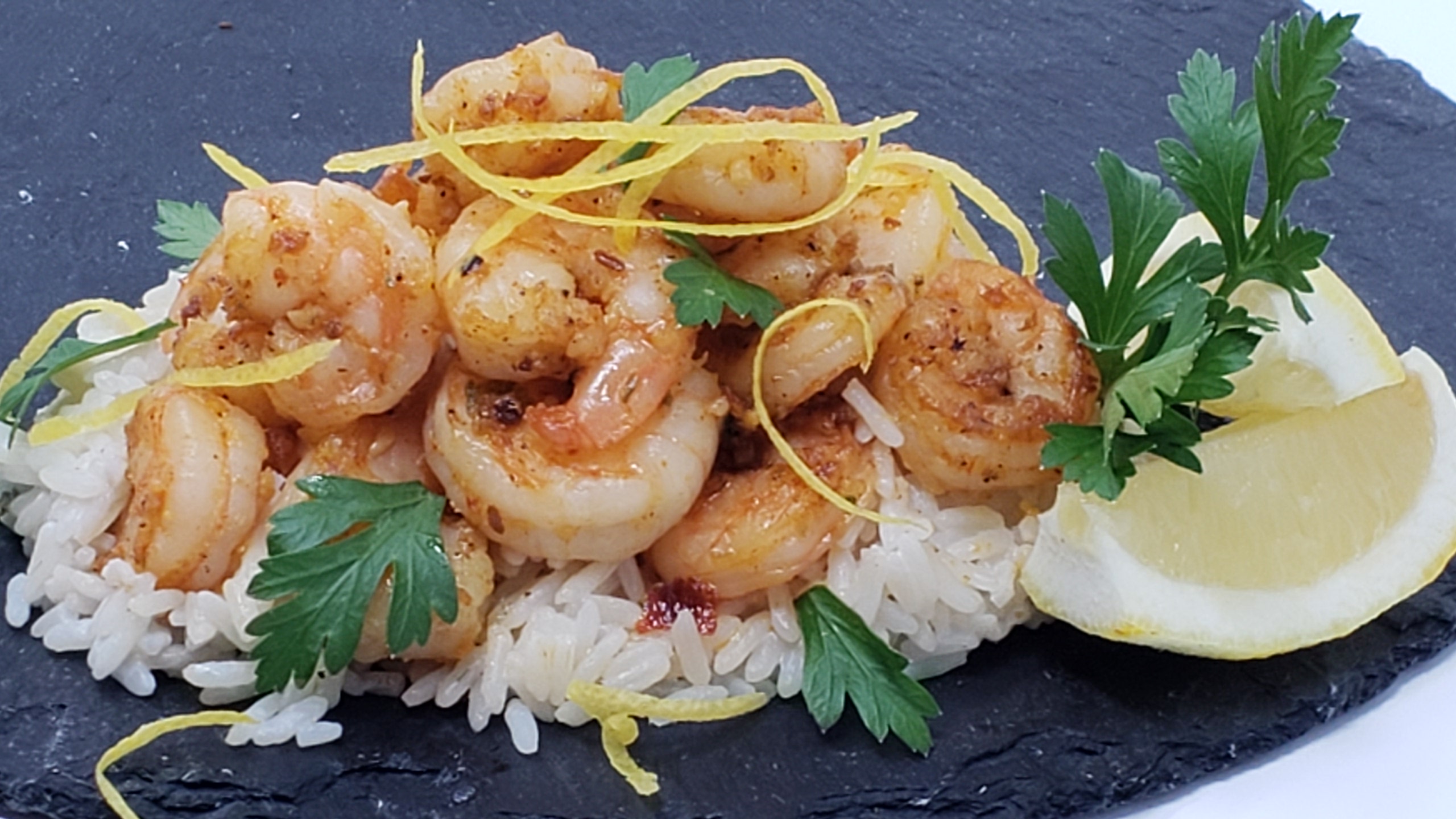 Harissa Shrimp with Coconut Rice
Coconut rice — it was love at first taste!
There I was, many years ago, stuck in Bangkok, Thailand due to a baggage handler strike at the airport. What started out as an inconvenience ended up as two days of wonderful, life-long memories.  It was a moment that solidified my belief in the importance of relationships and the value of kindness — more on that in another post though – I promise it is a great story.
Back to the coconut rice – an ex-student of mine invited me her house for lunch and her mother served me a curry along with a steaming bowl of coconut rice – I can still close my eyes and smell that divine scent of freshly cooked rice, aromatic coconut and lemon – it was rich, decadent, delicious! This version is lightened up a little, but just as wonderful.
Don't be fooled, this rice can be served not just with Asian preparations, it tastes wonderful with salmon, fried garlic fish, and as I have here, paired with a northern African spicy shrimp.
Harissa is a fiery sauce or paste from northern Africa made mainly with chili peppers, garlic, red pepper, salt and olive oil. Recipes for harissa are often specific to regions and even to families who might add herbs and other spices to their version. While typically used as a paste, I prefer a dried spice mix which I can store for a while and as needed blend with olive oil, tomato paste and red pepper puree to make into a paste. I add Harissa to soups and stews or rub it onto shrimp, as I did in this recipe.
A deep roasted, flavorful Harissa powder can easily be made at home allowing you to modify the level of heat by varying the kind of chili peppers you use, and whether you keep the seeds in them.
I like being BRAVE and mixing and matching flavor profiles and cooking styles from all over the world. Here my Thai inspired rice meets Tunisian influenced shrimp in a plate that takes your taste buds around the world. What brave combinations are you serving tonight?

Ingredients for Shrimp
1 lb medium to large shrimp
1-2 teaspoons Harissa Spice mix * (based on taste and level of heat desired)
1-2 teaspoons garlic powder
½ teaspoon onion powder
Chopped lemon zest (from half a lemon)
2 tablespoon Single Estate Extra Virgin Olive Oil (EVOO), plus additional for sautéing
Lemon wedges to serve
Preparation of Shrimp
Mix the harissa, garlic and onion powders together in a large bowl, add the lemon zest and EVOO and mix well. Add the shrimp and toss to coat the shrimp, add a little additional oil if needed. Leave for 10 minutes
Heat additional 2-3 tablespoons of EVOO in a large skillet. Add the shrimp in one layer (not overlapping or piled on each other, you may need to do this in a couple of batches depending on the size of your skillet). Cook for 2 minutes, and flip. Cook for an additional 2 minutes until shrimp are curled and cooked through
Serve with coconut rice and lemon wedges.
Serves 4
Notes
*Making Harissa Spice Mix
½ cup dried chilies, chopped
2 tablespoons O&V Smoked Paprika
2 tablespoons cumin seeds
2 tablespoons coriander seeds
1 tablespoon garlic powder
1 tablespoon kosher salt
Toast the cumin and coriander seeds in a dry pan over low to medium heat until fragrant.
Remove from the heat and using a mortar and pestle, grind into a powder with the dried chilies. Add the remaining ingredients, mix thoroughly and store in an airtight container
You can buy also Harissa spice mix at many grocery stores, I personally love the version at Spice and Tea Exchange. Visit our friends at our local Greenville SC store and let them know Chef Veera sent you!
Ingredients for Coconut Rice
2 tablespoons Single Estate Olive Oil
1 cup rice
1 cup light coconut milk*
1 cup water
1 clove of garlic, minced
Preparation of Coconut Rice
Rinse the rice until the water runs clear. Drain well and pat with a paper towel to remove excess water.
Heat the oil in a medium saucepan. Add the rice and minced garlic. Sauté till fragrant, about 2 minutes.
Add the water, and coconut milk and stir. Bring to boil, cover, and reduce the heat to low. Simmer until the rice is cooked, and liquid absorbed – about 18-20 minutes.
Serve hot with a garnish of cilantro leaves.
Serves 3-4
Notes
* Regular coconut milk tastes amazing and rich in this recipe, but I like to use light coconut milk. It provides all the flavor without an oily residue but primarily I like it for the nutritional values – regular coconut milk has more than double the amount of fat and more saturated fats than the light version.