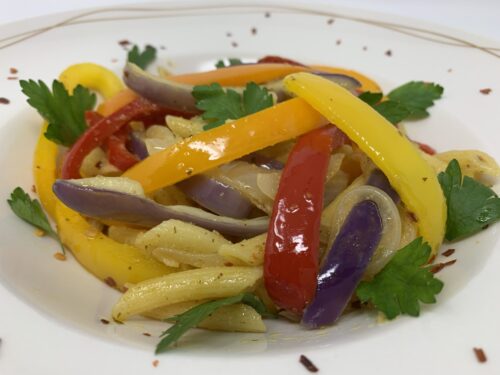 Easy Peasy — a template for Pasta dishes
I was walking through the Farmers Market and saw some great looking bell peppers – yes, there were the traditional green, red, orange and yellow, but also these beautiful purple peppers.
I was so drawn to them I just had to buy a few.  Actually, I bought some of every color but that is no big surprise to anyone who knows me.
So, my first thought was stuffed peppers – they would make such pretty containers for a nice filling, but then the filling always takes center stage in stuffed peppers. I really wanted to use these beauties in a dish that made them the star.
My Easy Peasy Pasta is really a template for making any quick pasta dish you like –
–Pasta – any shape that you enjoy
–EVOO – a good quality extra virgin olive oil – unflavored, Garlic, Tuscan Herb, Basil, Lemon, or any other flavor you
prefer
–Garlic or onions (or both)
–Star ingredient (in this case peppers)
–A seasoning mix (anything from a bold Tuscan blend, to a mild tarragon and dill blend, or even a smoky or spicy mix
for a change)
–Options: – If you would like to, add another ingredient (other vegetables/chicken/shrimp) this recipe is very
adaptable. Just BE BRAVE.
It starts with boiling the pasta according to directions, heating the EVOO in a pan, adding the garlic and/or onions, then the star ingredient along with the seasoning mix.
What I loved about using the peppers in this version was how beautiful the colors stayed – I look at this pasta and think that it reminds me of a great team – each person's individuality stands out just like each of the peppers, pasta, and onions do in this dish. The light EVOO and seasoning "sauce" doesn't mask any of their individual flavors, but coats them with a "culture/flavor of the team". No one ingredient overtakes the other, but you would miss it if it wasn't there. Just like a team should be!
So, BE BRAVE with the ingredients you add to your Easy Peasy Pasta team, change them around each time you make this, share your photos and suggestions below and let's see how many teams we can create together.
Ready to try the recipe out for yourself? Let's cook something delicious together!

Easy Peasy Pasta Recipe
Ingredients
½ lb Penne pasta
2 cups sliced peppers (a combination of yellow, red. orange, purple)
1 white, sweet onion, thinly sliced
2-3 tablespoons O&V Roasted Garlic grapeseed oil**
1 – 1 ½ tablespoons O&V Tuscan Dipper seasoning mix**
½ teaspoon dried chili flakes (more to taste)
Parsley to garnish
Grated parmesan cheese (optional)
Preparation
Boil the pasta according to the package directions till al dente using well-salted water.
In a large skillet heat the oil on medium with the chili flakes for a minute.
Add in the onions and sauté a couple of minutes till translucent (you don't want the onions to brown, so keep the heat on medium to medium-low and keep stirring).
Add the peppers and seasoning blend. Sauté for another 2-4 minutes ensuring that the peppers stay crisp and the onions don't brown. Add in the cooked pasta and toss to mix. Add more oil to ensure that all the pasta and vegetables are well coated. Season with salt and pepper to taste
Serve garnished with parsley and grated parmesan cheese (if using)
Notes:
**This O&V Roasted Garlic oil is my favorite to use, as it gives this amazing, garlicky flavor, but feel free to use a plain EVOO and add 3-4 cloves of sliced garlic to the pan with the red chili flakes. Just don't let them burn!
**I use the O&V Tuscan dipper seasoning A LOT because of the fabulous flavor it imparts of everything – pasta, chicken, salads, potatoes. Feel free to substitute with your favorite Italian seasoning blend or use a combination of dried oregano, thyme, basil, garlic powder, onion powder and give it a try.