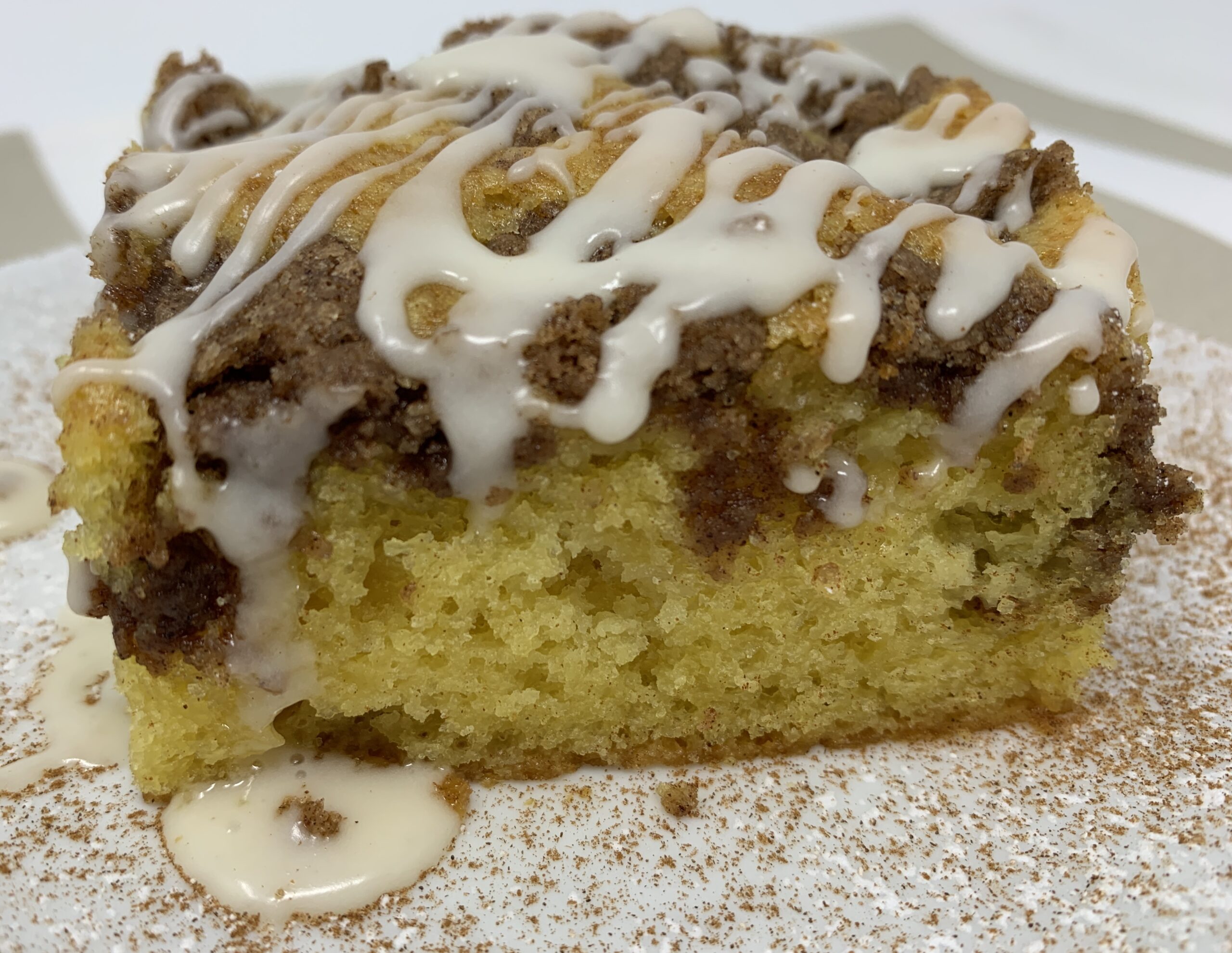 Apple Olive Oil Crumb Cake
Olive oil makes exceptionally good cakes particularly when you use a light, fruity oil such as Arbequina that adds flavor without too much pepperiness. If you've never made an olive oil cake, BE BRAVE and give this one a try – I think you will fall in love with how tender, light and moist it is.
This cake doctors up a packaged cake mix for ease, adds sour cream – making the cake amazingly moist, plus the added deliciousness of chopped fresh apple.
It is a perfect cake to pair with a cup of coffee or tea and is a nice sweet end to brunch or a high tea. I have also served this for dessert at the end of a nice dinner – if you plan to make it for dessert, definitely plan to use the Maple Icing and serve it with a scoop of vanilla bean ice-cream or whipped cream.
Okay so maybe a cake isn't high on the recommended food list in the Mediterranean lifestyle but isn't it nice to indulge occasionally? Afterall, we are using heart healthy olive oil (wink, wink). Everything in moderation, so occasionally fill your home with the intoxicating smell and pure enjoyment of a homemade Apple Crumb Cake.

Ingredients
1 package vanilla box cake mixture
1 cup (8 oz) sour cream
4 eggs
¼ cup sugar
1 cup O&V Single Estate Oil plus 1 teaspoon to grease the pan *
1 tablespoon O&V Melipone Vanilla
1 large green apple, diced small
1 teaspoon flour
Crumb Mixture
¼ cup butter at room temperature
½ cup light brown sugar
¼ cup flour
1 tablespoon ground cinnamon
Maple Icing (optional)
1 ½ cups confectioner's sugar
2 tablespoons O&V Runamok Maple Syrup
1-2 tablespoons whole milk
Preparation
Preheat oven to 325 degrees. Grease a 9 x 13 baking pan with a little EVOO. Mix the diced apple with the teaspoon of flour
Mix the sour cream, eggs, sugar, oil and vanilla in a bowl. Add the box cake mix and combine well. Fold in the apple mixture. Pour into the prepared pan.
For the crumb mixture, in a small bowl mix together the flour, sugar and cinnamon. Work in the butter with a fork or fingers to create a coarse crumb. Cover the cake with this mixture
Bake for 40 – 45 minutes.
Serve the cake topped with whipped cream and a sprinkle of cinnamon or drizzle with Maple Icing
Icing: Whisk together the sugar, syrup and one tablespoon of milk. Add the second tablespoon of milk as needed to get to the right consistency to drizzle over a cake. You may not need the entire amount of icing for the cake.
Notes
* Yes, as always, I love using the products from our Oil & Vinegar franchise. In this case the O&V Single Estate Oil is Arbequina from Spain, that has a nice fruity flavor. Feel free to substitute products, just remember, that the better the ingredients, the healthier and tastier the cake.