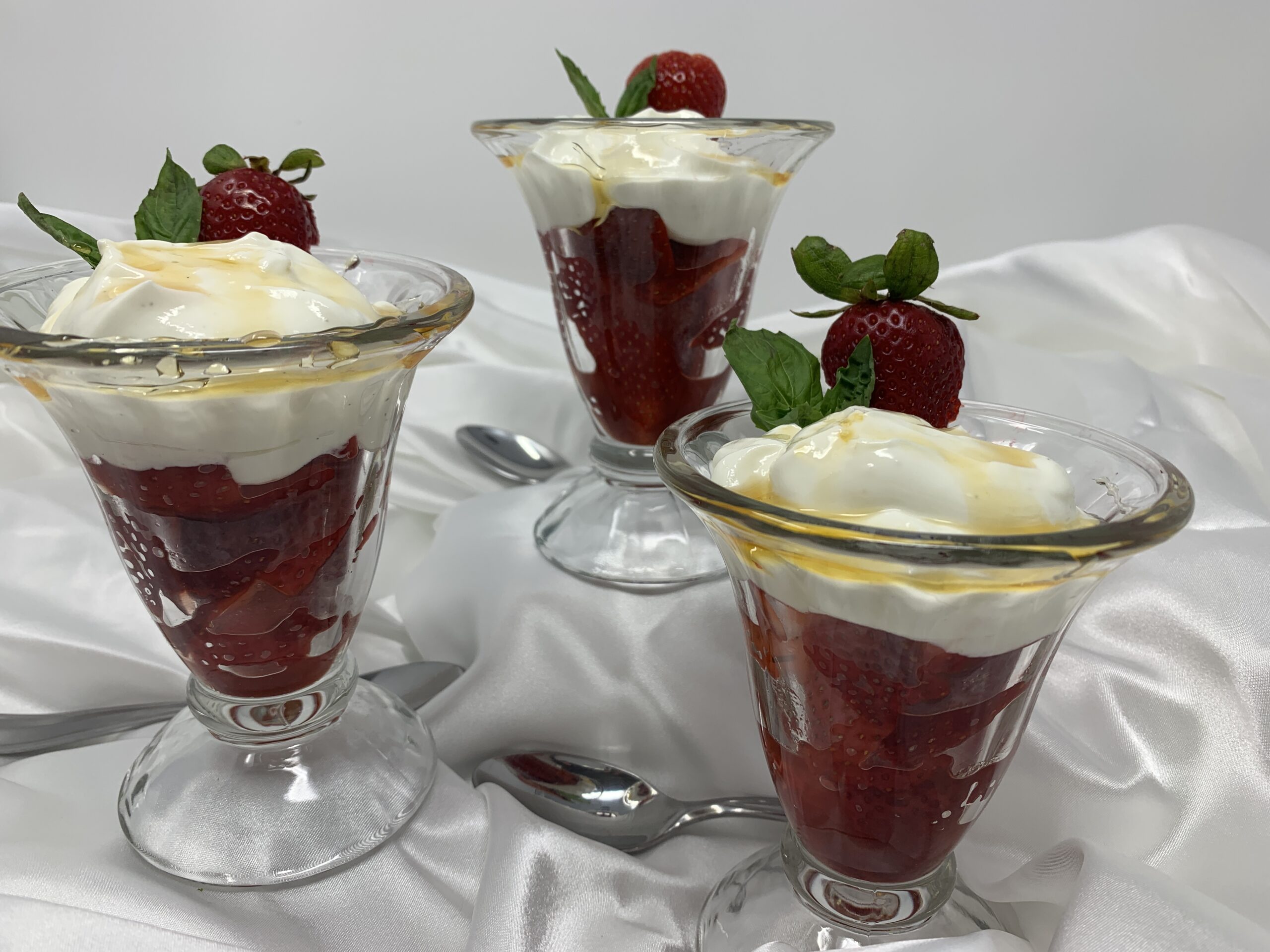 Yogurt & Strawberry Parfait
Parfaits are a dessert worthy, yet breakfast appropriate dish that consist of Greek Yogurt, fruit, and healthy add ins such as granola, toasted nuts, or dried fruit.
Often, the dessert versions are made with ice cream, but I like making parfaits with yogurt instead of ice-cream – it gives me that wonderful creamy mouthfeel with far fewer calories. The ratio of protein to carbs in the yogurt makes it great as a breakfast or post work-out snack too. Depending on whether you intend to serve them for dessert or as a healthy breakfast or snack, you can adjust the ingredients to be more indulgent or not.
In order to create delicious and healthy parfaits, you just have to focus on the quality of ingredients.
Yogurt
Greek yogurt's smooth and thick texture makes it taste indulgent. Filled with healthy fats and muscle building protein, it is usually strained multiple times to yield a beautiful creamy, dense consistency that is a perfect substitute for ice-cream. I prefer using a 2% or whole milk (4% milk fat) plain yogurt, to which I add some Mexican Melipone vanilla and honey to flavor and sweeten it up. This way I get to control the amount of sugar better than if I was using a store-bought flavored yogurt.
Fruit
Most parfaits include some type of fruit – strawberries (as I have used here), but also blueberries, raspberries, sliced bananas, orange segments, blackberries, sliced kiwi, or whatever your taste buds desire. Although you can use frozen or canned fruit, using fresh fruit, as I always do, allows you to control the amount of sugars in your parfait, and I like the taste of fresh fruit.
Add Ins
Add ins can be healthy, and my preference is to just drizzle my parfaits with a little honey, maybe add some home-made granola, some toasted nuts, or even a little aged balsamic over the top. However, you can also choose to go all out and have fun adding other toppings that you prefer.
So, enjoy this easy strawberry yogurt parfait and BE BRAVE as you experiment with your favorite fruits and add-ins.

Ingredients
3 tablespoons O&V Strawberry Rhubarb vinegar *
1 cup Greek Yogurt
½ teaspoon Melipone Vanilla
1-2 tablespoons O&V Strawberry Honey* (plus more for drizzling)
1-pint baskets strawberries, hulled, sliced
Sprig of Basil
Preparation
In a bowl, toss sliced berries with the vinegar. Toss to blend and let stand for 10 minutes
In a separate bowl beat the Greek yogurt with the vanilla and honey till well combined
Divide berries and resulting syrup among 4 bowls. Top with Greek yogurt. Drizzle the top with a little more Strawberry Honey and garnish with a sprig of Basil
Optional: add home-made granola as a topping as well
Notes
* Yes, as always, I love using the products from our Oil & Vinegar franchise. This O&V Strawberry Rhubarb vinegar has fabulous sweetness from the strawberries balanced with a tartness of rhubarb. It adds great flavor to the strawberries and draws out the sugars in the fruit. It is also a great flavor enhancer in a glass of water, adding probiotic benefit with delicious taste.
I love to use the O&V Strawberry Honey because it enhances the flavor of strawberries, and is simply a wonderful honey that can also be added tea or even drizzled over goat cheese as an appetizer. Feel free to substitute products, just remember, that the better the ingredients, the healthier and tastier the dish.
Serves 4
Categories: Breakfast & Brunch, Dessert, Gluten-Free, Vegetarian, Sweets, Fruit, Strawberry, Honey, Vinegar, Vanilla, Breakfast, Brunch