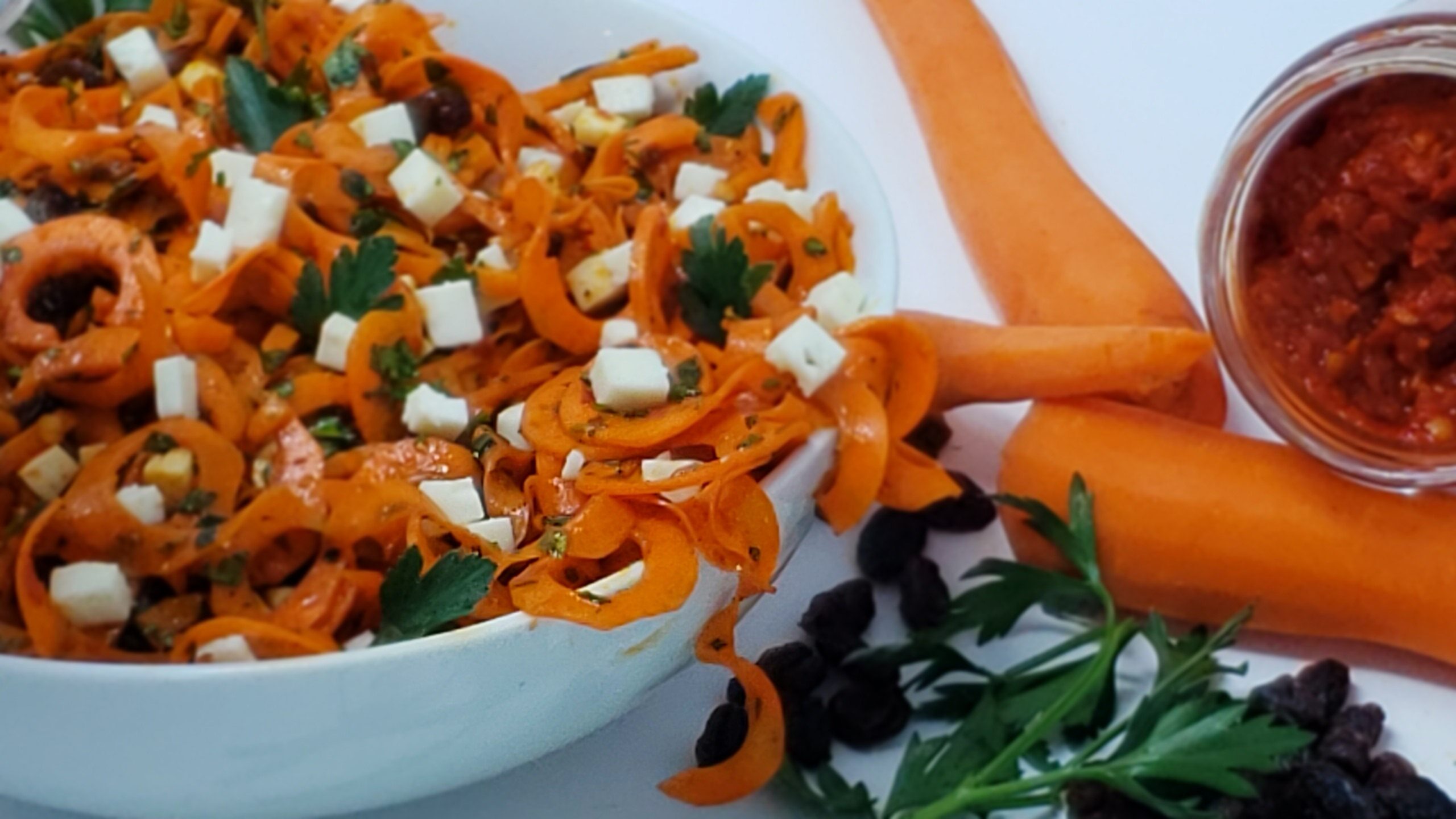 Sweet & Hot Carrot Slaw
Carrots are a versatile, wonderful vegetable — crunchy, tasty, highly nutritious — high in beta-carotene, fiber, Vitamin K.
Studies have shown that eating carrots is linked to lower cholesterol, and improved eye health. I love using them in stews or soups, and roasting them to bring out all those sweet flavors, but my favorite way to eat them is raw. I always throw chopped carrots into my salads, so I thought, why not make a salad using just these orange delights.
Whenever possible I like to purchase carrots at a Farmers Market. They are fresher, sweeter, more tender, and you can often get a multitude of colors beyond the orange which creates a really beautiful dish. This time of the year, I often have to buy my carrots at the local grocery store. Depending on where you are, supporting your local farmers market for fresh ingredients is usually your best option. That, along with high quality oils and vinegars as the dressing will make this a very healthy and flavorful dish you will want to make over and over!
While you can certainly just chop your carrots to make this salad, I love using a simple spiralizer to get lots of surface area for that delicious dressing – I also think it looks appetizing and fun.
Typically, I serve this as a side dish, with anything from grilled chicken to burgers or even a roasted chicken. It also makes a nice lunch – you'll just need to add in some protein to keep you from getting hungry too quickly – cooked chicken or quinoa, or roasted chickpeas are good options.
When you make this salad, you can also choose to BE BRAVE by adjusting seasonings and flavors to meet the preferences of your family. This is also a great recipe to get your kids involved in, let them spiralize the carrots, or make the dressing – kids love to eat what they make! So, here's to Bugs Bunny's favorite veggie!

Ingredients
¼ cup O&V Blood Orange grapeseed oil*
3 tablespoons O&V Date Vinegar *
1-2 tablespoon Sambal Oleak or Harissa sauce or Sriracha
1 teaspoon lemon juice
Salt and Pepper to taste
1 lb Carrots, peeled and spiralized
½ cup raisins
½ cup crumbled feta
¼ cup fresh parsley, chopped
Preparation
In a large bowl, whisk the oil, vinegar, spice sauce, lemon juice. Add salt and pepper to taste.
Place the spiralized carrots in a salad bowl. Pour the dressing over the carrots and toss. Stir in the raisins, feta and fold in the parsley
Serve chilled or at room temperature
Notes
* Yes, as always, I love using the products from our Oil & Vinegar franchise. The sweetness of the Blood Orange oil and Date vinegar balance really well with the Harissa. Sometimes, since I prefer more spice than sweet, I substitute the O&V Moroccan Spice oil instead of the Blood Orange for even more spice. Feel free to substitute products, just remember, that the better the ingredients, the healthier and tastier the dish.
Active Time: 15 minutes
Serves 4
Categories: Soups & Salads, Vegetarian, Gluten-Free, Blood Orange, Olive Oil, Date vinegar, Feta, Harissa, Carrots, Moroccan