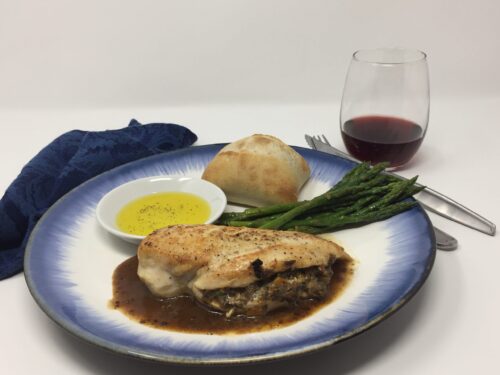 Sunday Stuffed Chicken Breast
In the cooler weather, this recipe is a staple in our home. It is one of my favorite Sunday dinners to make – warm, tasty, and relatively easy to make.
I remember the first time I made it, I actually had created the mushroom mix which I make quite often, and filled mini filo cups with it as an appetizer for a Saturday evening get-together. The next day I looked at the leftovers and thought, why not stuff a chicken breast with it for dinner tonight. Since then, I have made a couple of tweaks to the stuffing, and now it appears regularly in our dinner rotation.
People are sometimes intimidated by stuffed chicken recipes because they are unsure about how to actually stuff the chicken breast. Here is my easy way to do that.
Pat the chicken breast dry, so it is easy to hold
Keep one hand on the top of the chicken breast to keep it steady and insert a sharp boning knife in the middle of the thickest part of the breast.
Make a slit cutting horizontally through the thickest part of the chicken about ¾ of the way. The slit should run about 1-1 ½ inches long.
To stuff the pocket, create an elongated ball of your stuffing mixture with your hands, and then insert it into the pocket. Don't overstuff, or the stuffing will come out of the chicken as it cooks
Use a small wooden skewer (or long toothpick) to thread the opening and enclose the stuffing.
Learning this technique for stuffing a chicken breast will open many new avenues for you, so BE BRAVE because you will greatly appreciate this method of cooking chicken for dinner. Don't be surprised if I use it multiple times in the future.
Serve this dish with an easy side of sautéed asparagus or broccoli or even a fresh green salad. We often include a nice piece of Italian bread and some high-quality Single Estate EVOO to dip in.

Stuffed Chicken Breasts
Ingredients
4 tablespoons Single Estate Extra Virgin Olive oil
4 chicken breasts
12-16 oz mushrooms chopped
1 tablespoon O&V Tuscan dipper seasoning **
1 small shallot, minced
5-6 cloves of garlic, minced
2 tablespoons white wine (or chicken stock)
2 tablespoons grated parmesan cheese
2 tablespoons Panko breadcrumbs
3-4 tablespoons of Chopped herbs (parsley, basil, oregano combination)
Salt and pepper to taste
Gravy
½  shallot, minced
3-4 cloves garlic, minced
1 tablespoon chopped thyme
¼ cup Chicken broth
Preparation
Preheat oven to 400F
Heat 2 tablespoons of oil in a sauté pan, add mushrooms and seasoning mix
Sauté for 5-8 minutes allowing the mushrooms to caramelize. Add shallots and garlic to the pan and sauté another 3-5 minutes till fragrant.
Add the white wine/stock and cook till reduced and the mixture is not watery
Add cheese, chopped herbs, and breadcrumbs, stir to combine. Add salt and pepper to taste and take off the stove
While the mushroom mixture is cooling, cut a pocket in the chicken breasts cutting a slit horizontally through the chicken about ¾ of the way. The slit should run about 4-5 cm long. Sprinkle a little salt and pepper on each chicken piece.
Once the mushroom mixture is cool enough to handle, stuff each pocket with the mixture by creating an elongated ball of the mixture with your hands, and then inserting it into the pocket. Don't overstuff, or the stuffing will come out of the chicken as it cooks
In an ovenproof pan heat the remaining oil on medium-high heat and brown the stuffed chicken. Remember, you are not trying to cook it through, just browning both sides of each piece
Then place the ovenproof pan with the chicken in the oven for 7-10 minutes
Remove the pan from, the oven and remove the chicken pieces from the pan onto a plate. Keep warm by covering with foil
Place the pan on medium heat to make the gravy and add shallots, garlic, and thyme to the pan. Sauté in the juices of the chicken
Add chicken broth to make a gravy and pour over chicken
Serve with pan sautéed asparagus (or any veggie of your choice) and a starch, I love it with some fresh Italian bread and a little Extra virgin Olive oil for dipping.
Notes
**I love the robustness of this O&V Tuscan seasoning mix, it adds great flavor and depth to the dish, but you can add any blend of Italian seasoning.
Serves 4