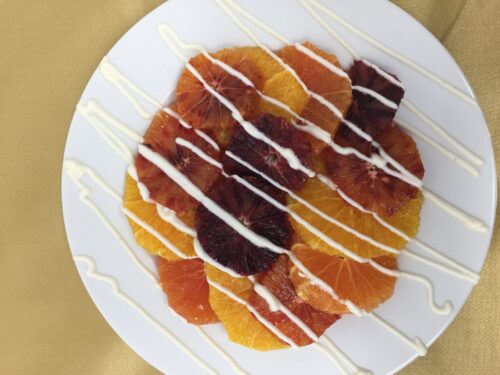 A Sweet & Healthy Treat
I love Navel oranges as a healthy snack, packed with Vitamin C and fiber, easy to peel and eat, seedless and juicy, but not too sweet. On a recent shopping trip, I planned to pick some up.
There, right next to them were some beautiful Cara Cara oranges and Blood Oranges. I was delighted! Immediately, I thought of how pretty all three of these beautiful oranges would look together on a plate, especially, since we were having people over for brunch that Sunday. Inspiration can sometimes sneak up on you, and whenever that happens, embrace it and let the creative juices flow.
If you haven't had Cara Cara oranges, they have the same bright orange rind and shape of a traditional navel, but what really sets them apart is the distinct pinkish-red flesh. Sweeter, less acidic, and seedless too, they have a hint of cherry in their flavor.
Blood Oranges on the other hand, have a beautiful dark maroon flesh color. While the skin can be a little harder to peel than the Navels, they have a unique flavor that has a raspberry-like note in addition to the usually citrus. These are a commonly grown orange in Italy and the beautiful color of the flesh develops only when night-time temperatures are low as in the fall and winter in the Mediterranean.
On the drive home my thoughts were racing about what I could do with these beauties. Then it came to me, just slice them, arrange them on a plate, and create a nice sweet drizzle.
Simplicity, but with such a great WOW factor –all the hard work is done by the three different colors of the Navel, Cara Cara and Blood oranges. I decided to make a Greek yogurt and Lemon Curd drizzle — the yogurt gives you that creamy fat and mouth-feel that we all crave and converts the dish from a bowl of fruit to a luscious brunch item or even a light citrusy dessert.
Try this at your next brunch, but really, it's simple enough that you can make this for breakfast by adding some granola to the plate.
Enjoy and BE BRAVE with your choices, and as always, Taste. Love. Share.

Cara Cara Oranges with Lemon Curd Drizzle Recipe
Ingredients
½ cup Greek style Vanilla yogurt (can use dairy free)
3 tablespoons Lemon Curd*
2 tablespoons Honey* (plus more to drizzle)
Sliced Naval oranges, Cara Cara pink orange, Blood oranges
Minced fresh thyme to garnish (optional)
Sprinkle of granola or roasted, sliced almonds to garnish (optional)
Preparation
In a bowl, mix the yogurt, Lemon Curd and honey till smooth.
Peel, pith and slice the oranges into circles and arrange on a plate alternating the colors and sizes of pieces. (see Tips below)
Drizzle the oranges with the yogurt mixture and with additional honey as needed for sweetness. Garnish with nuts, granola and thyme if using.
Substitute fresh fruit of your choice, such as sliced strawberries, raspberries, blueberries and blackberries in a bowl.
Notes
* I particularly love using Oil & Vinegar's Lemon Curd and Peach Honey —  the peach honey, with the flavor of peach pulp is irresistibly good on the fruit but you can substitute with a plain local honey, it will just lose a little of the layers of flavor from the drizzle.
Serves 2
Tips
To peel, pith and slice the oranges, cut the top and bottom off of the orange to create two flat ends and lay on the flat end on a cutting board.
Using a sharp paring knife or carving knife (with a sturdy blade), slice the skin and pith off the orange in a downward movement (from one flat end of the orange to the other), rotating the orange until you get all the skin off.
Turn over, and clean off the pith and skin from the bottom end. Slice into circles.